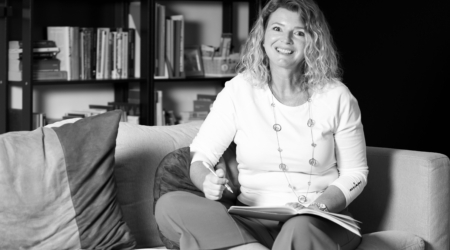 Dear Germanee,
The third letter of the German alphabet won't come as a big surprise to you: It's the C.
Well, we don't have many words in German starting with a C.
We borrowed most of them from other languages.
If a German word starts with C, we'd pronounce it like a K, i. g. Clown or Camping.
While camping leads me directly to the verb, I'd like you to get in touch with.
The third verb out of 26, the C-verb of my choice is: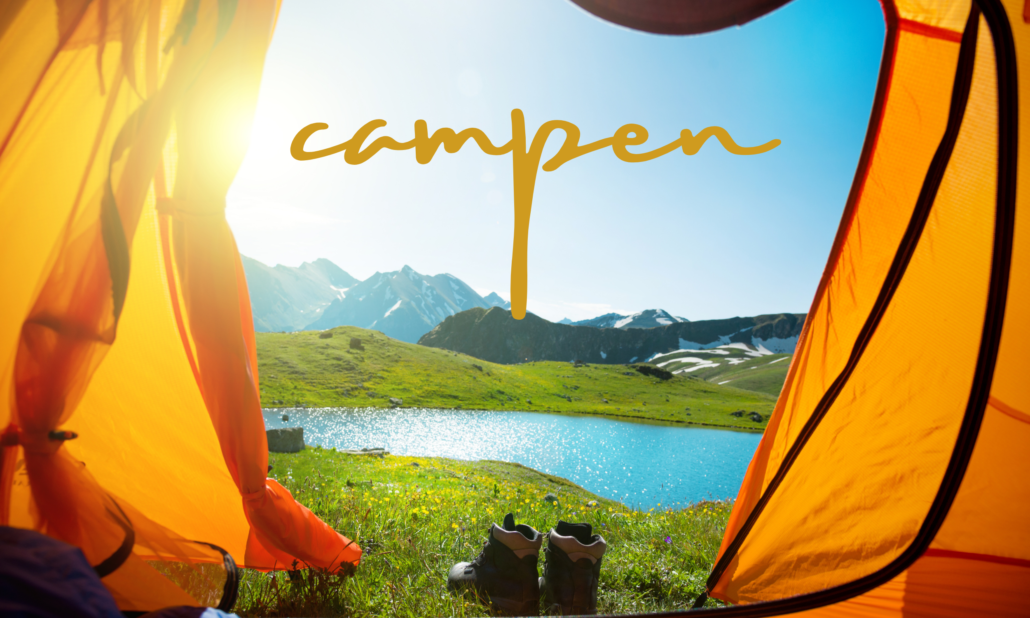 Does it look familiar to you?
Yes, you're right.
We stole it from the English language and just added our German verb-endings.
Welcome, welcome to part four. Ta-daaaaaaaaa!
Bist du bereit? Are you ready?
Then, let's have a look how the verb campen changes in action.
Do you recognize these different endings already from part 3-verb backen?

Verb

basic form

Singular

Plural

ich

I

du

you informal

er/sie/es

he/she/it

wir

we

ihr

you

sie/Sie

they/you formal

campen

campe

campst

campt

campen

campt

campen
I believe, there are three different groups of camping people in Germany:

Either youngsters go for camping or families
or die-hard campers of the elder community.
I have to admit straight away, I don't belong to any of them;).
Let's have a closer look,
how we'd use the verb campen in our everyday German.
Imagine, it's Friday,
weekend just around the corner
and a wonderful summer morning.

Nadja and Carlos bump into their common friend Marie
in front of their university.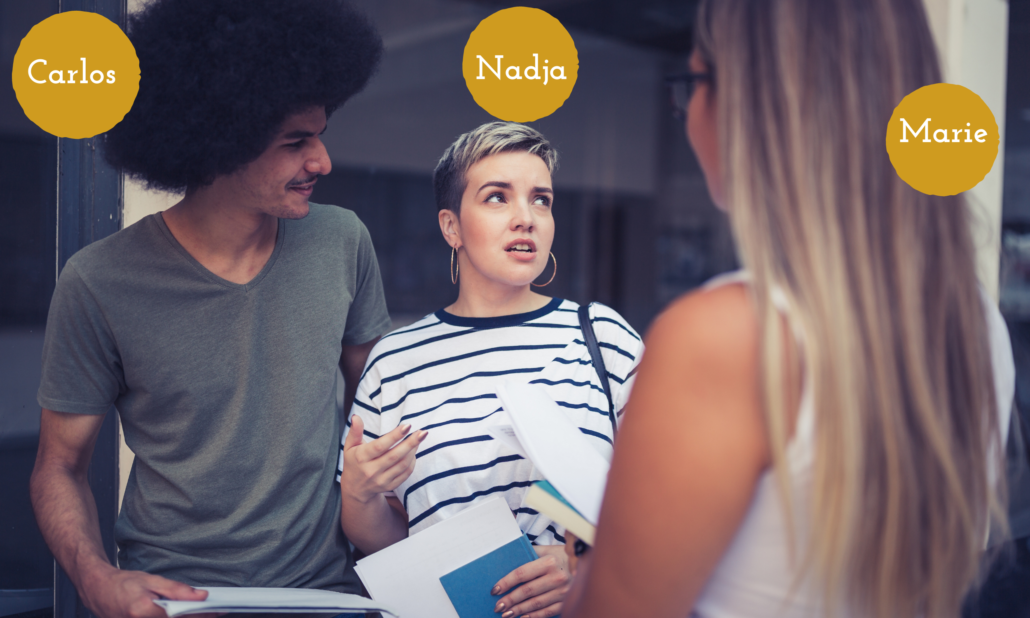 CARLOS
Hallo Marie! Guten Morgen. Schön dich zu sehen! Wie geht's dir denn?
Hello Marie! Good morning. Great to see you! How are you doing?
MARIE
Heyyyyy … Nadja! … Carlos! Schön euch zu sehen. Mir geht's wunderbar.
Das Wetter ist traumhaft und ich habe dieses Wochenende frei.
Heyyyyy … Nadja! … Carlos! Great to see you (plural!). I'm very well. The weather is gorgeous and I'll be off this weekend.
NADJA
Oh, wie cool! Du arbeitest am Wochenende nicht?!? Wir haben Tickets
für das Fusion Festival am Wochenende. Komm doch mit!
Carlos, was meinst du?
Oh, that's cool! You (don't) work on the weekend not? We have tickets for the Fusion festival this weekend. Just come with us! Carlos, what do you think?
CARLOS
Natürlich! Super Idee. Komm mit, Marie! Das Wetter ist so toll und wir campen. Das wird richtig schön.
Sure! Great idea. Come with us, Marie! The weather is so nice and we go for camping. It'll be awesome.
MARIE
Wow, ich liebe das Fusion Festival! Und ich campe soooo gern. Aber so spontan? Ihr Zwei seid ja verrückt.
Wow, I love the Fusion festival! And I like camping sooooo much. But, that spontaneous? You two are crazy.
NADJA
Komm schon, Marie! Lass uns spontan sein! Wo ist das Problem? Du hast frei. Du liebst das Fusion. Du campst gern. Wir haben genug Platz im Auto…
Come on, Marie! Let us be spontaneous! Where is the problem? You are off. You love the Fusion. You like camping. We are having enough space in the car…
CARLOS
Marie, sag einfach JA! Hmmm … aber hast du ein Zelt? Unser Zelt ist leider zu klein für drei Leute.
Marie, just say YES! Hmmm … but (do) have you a tent? Our tent is unfortunately too little for three people.
MARIE
Ok. Ok. Ok. Leute, ich bin dabei. Ahhhh … und ich freue mich so, so sehr. Ein Zelt ist überhaupt kein Problem. Mein Bruder campt oft mit seiner Familie und er hat ein großes Zelt. Das kann ich ganz sicher haben.
Ok. Ok. Ok. Guys, I'm in. Awww … and I'm looking so, so much forward to it. A tent isn't a problem at all. My brother often goes camping with his family and he has a big tent. I can have that for sure.
NADJA
Wohooo – Fusion, wir kommen! Das wird so toll.
Wohooo – Fusion, we're coming! It's gonna be so great!
CARLOS
Super, Mädels. Wir starten dann heute Nachmittag gegen drei. Bis dann!
Great, girls. We start then today in the afternoon around three. See you then!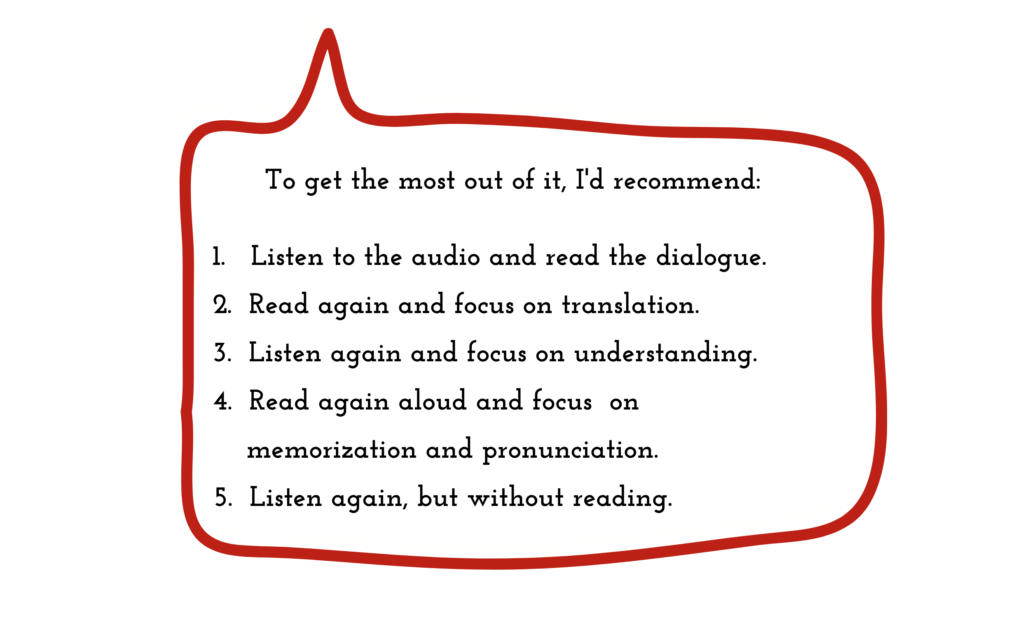 How was it?
I'm sure you understood that these friends talk about their weekend plans. They wanna go to the Fusion festival, a very popular one among fans of electronic music.

There are numerous other festivals for all kind of music in Germany,
from spring time till late summer.
Just to name a few:
Rock am Ring for rock and punk music over three days, with around 90,000 visitors.
Wacken open air for fans of Heavy Metall with about 75,000 guests
or Lollapalooza for rock, rap and punk as well as dance, comedy, fashion and art.
Aside from these kind of huge events, there are smaller and cozier ones too, almost every weekend around the year for every music taste.
If you're interested in getting some detailed information about all festivals, you can check out this website: https://www.festival-alarm.com
For many Germans – of all ages or stages of life – it's a must to travel around the country and spend some summer weekends at one of these festivals.
I believe, it's the full package of fun, joy and music, what makes the experience so unique: Taking a break of normal routines. Enjoying music, live performed by world class stars on several stages. Spending intense hours with your friends, but also with new people you've never met before.
Stepping back to the roots of civilization by sleeping in a tent and preparing your morning coffee on a camping stove. Being exposed to nature and weather; unlike Dubai there is no guaranteed sunshine in Germany;).
And what about you?
Campst du gern? / Do you like camping?
Wo campst du? / Where do you go for camping?
Und warst du schon mal bei einem Musik Festival? / And have you ever been at a music festival?
I'd love to know your stories!
Hab einen wunderbaren Tag / Have a wonderful day
… and let me know your camping adventures in the comments below!

Bis bald,
deine Tina Heimberg
https://germanful.com/wp-content/uploads/2021/02/A7R1651-scaled.jpeg
1831
2560
Tina Heimberg
https://germanful.com/wp-content/themes/germanful/assets/images/logo.png
Tina Heimberg
2021-03-02 19:17:37
2021-07-07 14:06:06
26 + 2 German Verbs in Action part 4